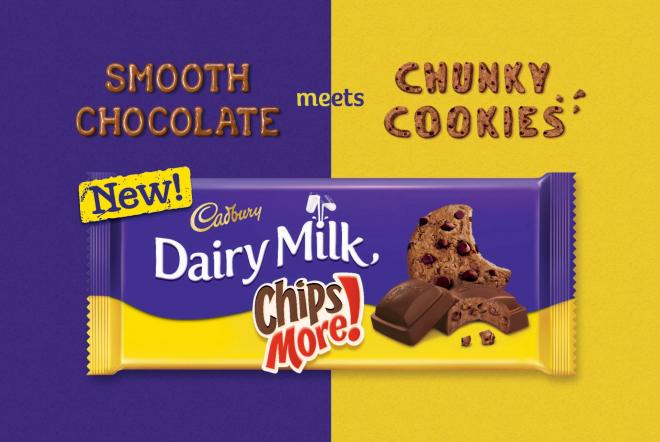 Good morning sunshine!! Meet the weekend again. However, we still got one more week of Lockdown 2.0 to go through 😂. Hope it's gonna end soon. Please don't extend. So, bored to stay at home very long. Now get back to the story. Last Tuesday, I went to Tesco for replenishing my food stocks. 😁 Then I accidentally found this new fella in confectionery section!
Guess what? It's a new Cadbury! With Chipsmore cookie chunks in it. Actually, this chocolate got melted a little bit. So I let it harden in the fridge for a while. Since, I still got no idea for breakfast, it's better for me to try this tempting chocolate to start my day. I think this sweet fella gonna be a good kick start for me to boost my sugar level as a breakfast.
What a great Saturday syugarboostah!!😋
This new Cadbury offers me as a chocolate fan with a unique experience of taste and textures. Got so many Chipsmore cookie chunks in it. What a pleasant & tasty chocolate bar. Actually, this chocolate is quite similar to Cadbury Dairy Milk Blackforest, but without existence of jelly beans.
Honestly, I really love the Blackforest version, but the jelly beans 😂. Nahhhhh...I really don't like it!! Because it frequently got stuck in my tooth gap when I chew it. So, this new version of Cadbury really fit my love & desire on chocolate. Good job Cadbury Malaysia. You're very innovative on satisfying Malaysian taste buds especially me!!
Got chocolate & crunchy cookie chunks in it. The taste was so delicious & tempting!!
For your information, this new Cadbury just launched on last 17th June. Those who want to experience the new taste of Cadbury Dairy Milk Chipsmore! you can grab it in any major Hypermarkets and Supermarkets, nationwide with this recommended selling price of:
Have A Nice Weekend Y'All

Don't Forget To Try This New Version of Cadbury!!

😉